About
It is so hard to leave-until you leave. And then it is the easiest goddamned thing in the world.
Newer posts are loading.

You are at the newest post.
Click here
to check if anything new just came in.
Achilles Tendonitis
Overview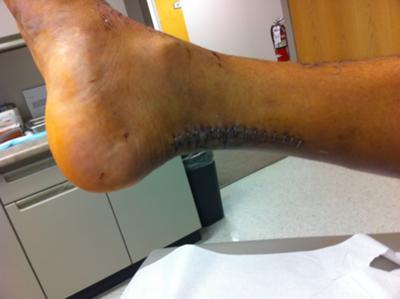 The Achilles is a large tendon that connects two major calf muscles to the back of the heel bone. If this tendon is overworked and tightens, the collagen fibres of the tendon may break, causing inflammation and pain. This can result in scar tissue formation, a type of tissue that does not have the flexibility of tendon tissue. Four types of Achilles injuries exist, 1) Paratendonitis - involves a crackly or crepitus feeling in the tissues surrounding the Achilles tendon. 2) Proliferative Tendinitis - the Achilles tendon thickens as a result of high tension placed on it. 3) Degenerative Tendinitis - a chronic condition where the Achilles tendon is permanently damaged and does not regain its structure. 4) Enthesis - an inflammation at the point where the Achilles tendon inserts into the heel bone.
Causes
The two most common causes of Achilles tendonitis are Lack of flexibility and Overpronation. Other factors associated with Achilles tendonitis are recent changes in footwear, and changes in exercise training schedules. Often long distance runners will have symptoms of Achilles tendonitis after increasing their mileage or increasing the amount of hill training they are doing. As people age, tendons, like other tissues in the body, become less flexible, more rigid, and more susceptible to injury. Therefore, middle-age recreational athletes are most susceptible to Achilles tendonitis.
Symptoms
Paratenonitis presents in younger people. Symptoms start gradually and spontaneously. Aching and burning pain is noted especially with morning activity. It may improve slightly with initial activity, but becomes worse with further activity. It is aggravated by exercise. Over time less exercise is required to cause the pain. The Achilles tendon is often enlarged, warm and tender approximately 1 to 4 inches above its heel insertion. Sometimes friction is noted with gentle palpation of the tendon during ankle motion. Tendinosis presents similarly but typically in middle-aged people. If severe pain and limited walking ability are present, it may indicate a partial tear of the tendon.
Diagnosis
Your physiotherapist or sports doctor can usually confirm the diagnosis of Achilles tendonitis in the clinic. They will base their diagnosis on your history, symptom behaviour and clinical tests. Achilles tendons will often have a painful and prominent lump within the tendon. Further investigations include US scan or MRI. X-rays are of little use in the diagnosis.
Nonsurgical Treatment
See your doctor or sports physiotherapist for further advice. You may be prescribed anti-inflammatory medicine and a rehabilitation programme. Sometimes, the ankle may be put into a walking boot or cast to immobilise the ankle in the short term. Gentle calf stretching is the first stage of rehabilitation. Don?t stretch to the point of pain. Strengthening the Achilles tendon is the second stage. Your doctor or sports physiotherapist will be able to advise you on exercises for this. Special exercises called eccentric calf raises, that contract the calf muscle as it is lengthening (during the lowering part of the movement), are the standard exercise used in the rehabilitation of Achilles tendon injuries. Sometimes a heel raise or orthotics may be useful. As symptoms resolve, resume normal weight-bearing activities gradually. Avoid running until all tenderness has gone. Swimming or cycling in low gear are good replacement activities.
Surgical Treatment
It is important to understand that surgery may not give you 100% functionality of your leg, but you should be able to return to most if not all of your pre-injury activities. These surgical procedures are often performed with very successful results. What truly makes a difference is your commitment to a doctor recommended rehabilitation program after surgery as there is always a possibility of re-injuring your tendon even after a surgical procedure. One complication of surgical repair for Achilles tendon tear is that skin can become thin at site of incision, and may have limited blood flow.
Prevention
Warm up slowly by running at least one minute per mile slower than your usual pace for the first mile. Running backwards during your first mile is also a very effective way to warm up the Achilles, because doing so produces a gentle eccentric load that acts to strengthen the tendon. Runners should also avoid making sudden changes in mileage, and they should be particularly careful when wearing racing flats, as these shoes produce very rapid rates of pronation that increase the risk of Achilles tendon injury. If you have a tendency to be stiff, spend extra time stretching. If you?re overly flexible, perform eccentric load exercises preventively. Lastly, it is always important to control biomechanical alignment issues, either with proper running shoes and if necessary, stock or custom orthotics.